Botox® is the tried and true way to turn back the clock on fine lines and wrinkles around the eyes, namely Crow's Feet.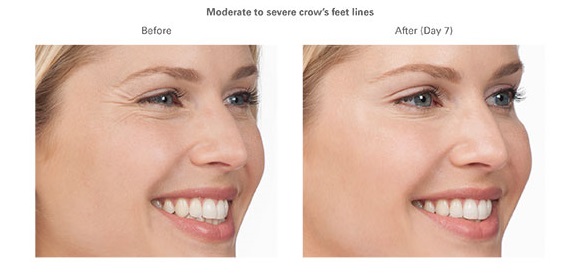 Botox® works through a botulinum A-based formula that effectively paralyzes facial muscles that lead to wrinkles by blocking nerve impulses to the muscles.   It can be used alone, or in conjunction with another cosmetic procedure.   Results of Botox injections to improve the aesthetic appearance of crows feet can last a number of months,  and should be repeated to maintain results.
The procedure is considered minimally invasive and recovery time is minimal.  In fact, patients stop in at Body Massage Wellness Med Spa for Botox treatments during lunch hour  or shopping in downtown Denver,  and return to the office or other activities that same afternoon,  with most appointments taking 30 minutes or less.
Why Botox® for crows feet?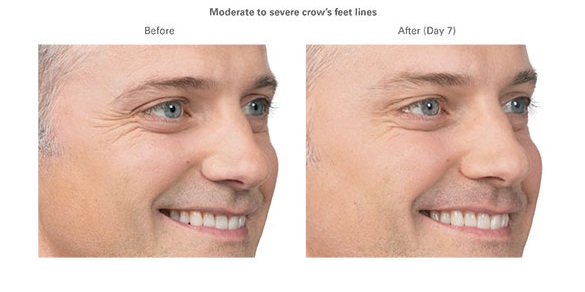 Remedies for crows feet have been applied to both women and men through the ages.  But not all techniques, creams and injectables that have gained popularity in past years have resolved the problem.   In fact some solutions to crows feet have left clients worse off than they were with the original issue.   Botox® is designed to relax the thin circular muscle around the eye called the orbicularis oculi muscle. This same treatment of crows feet can be used for adjacent areas of the eye such as in the tail of the brow, a "Botox brow lift."  
There are cautions that our clinical specialist will use in treating other areas of the eye, depending on factors that are reviewed in your appointment.
We recommend iS Clinical youth Eye Complex to be applied to keep surface skin around the eye, supple and hydrated after  Botox® is administered to your crows feet.
ARE YOU A CANDIDATE FOR COMBATING CROWS FEET WITH BOTOX®?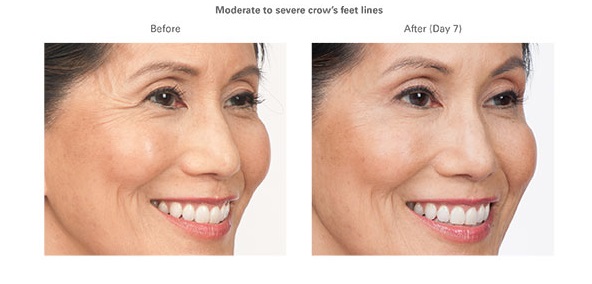 If you've looked in a mirror, then you might have noticed a few wrinkles around the edges of your eyes.  These imperfections can be hidden with the help of a professionally certified and trained Botox® cosmetic professional.   Our Licensed Medical Clinician supports our med spa services as an on-staff service provider at Body Massage Wellness Med Spa,  located at 1616 Welton Street just around the corner from the 16th Street Mall in downtown Denver.
This simple process won't take long to complete.    During a Botox® session in our beautiful downtown Denver wellness med spa,  Nicci will discuss the pros and cons with you before you receive the botox injections.
Denver's leading med spa & therapeutic wellness center since 1986
Treatment Times and Results
The actual procedure only takes about 10 minutes with significant results for most people who use Botox® to counteract the results of aging that show up as crows feet.   But especially for your initial session, set aside 30 minutes to accommodate our initial evaluation and discussion about the pros and cons concerning treatment with Botox.
Adjusting the Dosage 
Our experienced clinical professional will aim to gain control of the area of the face being treated in a short time with minimal treatment.
Botox® treatment can prevent crow's feet from becoming more pronounced in the future,  especially when you maintain our suggested regimen.  The amount of Botox® used will be adjusted, depending on the lines on the face and the overall structure.   Botox® injections for crow's feet should result in a natural appearance,  so when administering injections, we will increase or decrease the use of the product as needed, during future visits.
When Will I See Results?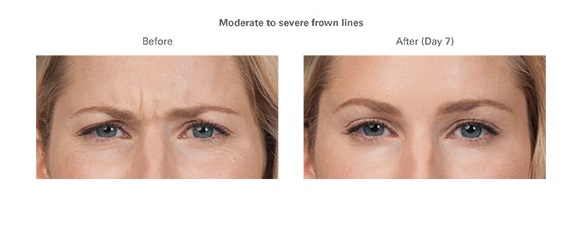 Most of the time, you will see results after between four and 20 units in a dose.  Our on-staff clinical professional, certified by Allergen (makers of Botox®),  will assess your individual situation and use an amount that delivers a natural appearance so that you do not look as if you've had cosmetic surgery. The goal is to create a spark or twinkle around the eye when using the Botox® for crows feet.
Most Botox® treatments will last for about four months.  You might need to return for additional treatment sooner so that you can continue to see a smooth appearance on the face,  instead of waiting until wrinkles develop again.
A few products can be used in tandem with your Botox® injections.   Feel free to ask questions about skin products we carry at our Downtown Denver Med Spa that will improve the quality, vitality and elasticity of your skin and can improve lines that develop for longer lasting aesthetic appeal.
Combating crows feet with Botox® results in almost a 100 percent success rate on your face,  due to the small overall area.   Botox® injections can also be administered for spasms in the face and as an effective treatment in the effects of Bell's Palsy.
Other Ways to Combat Crows Feet at Body Massage Wellness Med Spa in Downtown Denver
Dermal fillers, like Voluma™ XC, Juvederm® XC or Kybella™ contain hyaluronic acid that plumps and smoothes skin from the inside out.
Crow's feet require injections to the superficial dermis, so discomfort and swelling are kept to a minimum. Patients are allowed to return to activities right away. Results will be seen within a few days, but full effects will take 14 days to complete. Dermal fillers typically last up to one year to two year, with patients requiring touch-up procedures to maintain results.
PRP-Platlet Rich Plasma with Microneedling
This popular therapy is a minimally invasive skin rejuvenation treatment with quick recovery time, and is designed to stimulate the body's natural collagen production. The treatment actually involves the use of two procedures, micro-needling and PRP (platelet rich plasma) done consecutively will enhance fine line reduction while stimulating your own collagen.
—————————-
Licensed Medical Clinicians
BM&WS Licensed Medical Clinician's staff, are certified injection professionals at Body Massage Wellness Med Spa they are motivated by the belief that while beauty radiates from inner vitality and wellness, can benefit from the science and technology available today.
Our medical aesthetic injection specialist's has 15 years of experience their focused attention to detail lends itself to the artistry of fillers and neuromodulators. Our focus is to attain and maintain a natural and youthful appearance.
Body Massage licensed medical clinician's pursue continuing education to stay on the pulse of the industry are deeply committed to providing the best possible aesthetic advice and treatment available.  Our specialist's offer chemical peel procedures to treat various skin types and conditions, including dark skin types and acne.  We offer expertise in laser medicine as well as experience using the latest, state of the art aesthetic lasers for antiaging and general skin health procedures, in addition to hair removal lasers and PRP-Platlet Rich Plasma  for  cosmetic-skin and hair restoration.