CoolSculpting For Chin In Denver
Double chin is one of the most common cosmetic problems that our aestheticians address at Body Massage Wellness Med Spa. Also called 'submental fat,' a double chin is challenging to get rid of despite making focused efforts to lose weight, exercise, or eat healthily.
The good news is that you don't have to put up with unwanted fat in the chin or jawline area anymore. At our top-rated med spa in downtown Denver, we have a really cool solution to permanently eliminate excess fat from the chin area – CoolSculpting. The smart technology uses cold temperatures to freeze and break up fat in the chin area, which means, there are no hassles of needles, incisions, anesthesia, or elaborate recovery time.
CoolSculpting is performed by our highly qualified and certified medical aesthetician in a beautiful facility against an equally gorgeous backdrop of mountains. Thousands of happy clients have trusted us to deliver precise results with our diverse range of anti-aging, beauty, wellness, and skincare treatments over thirty years.
Denver's leading med spa & therapeutic wellness center since 1986
What causes a double chin?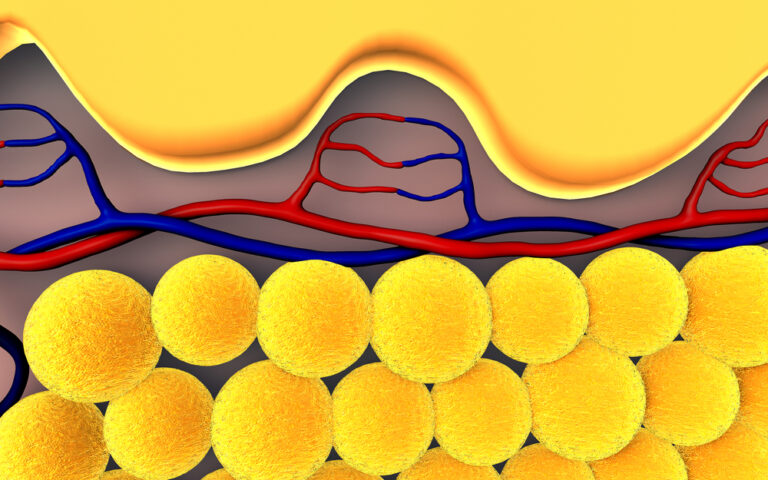 A double chin refers to the deposition of an extra fat layer beneath the chin. A combination of several factors causes a double chin.
Age: Youthful skin is able to retain its elasticity and strength because of skin nutrients such as collagen, elastin, and hyaluronic acid. Collagen and elastin are produced in the deeper layers of the skin and impart structural strength and suppleness to your skin. With age, the body makes less of these nutrients with the result that the skin starts to lose its strength and elasticity. Saggy and loose skin contributes to the creation of a double chin.
Weight and diet: Weight gain by itself may not cause a double chin but contributes to it. Calorie-rich foods and unhealthy fats can play a role in weight gain and fat accumulation beneath the skin.
Genetics: If anyone in your family has issues with skin laxity or has a double chin, you may be predisposed to develop these issues.
Posture: Poor posture may not be the cause of a double chin but can definitely worsen it. If you frequently tend to slouch or crane your neck, your chin muscles can weaken and the skin can lose elasticity over time, causing a double chin.
Facial frame: People with weaker jawlines and recessive chins may be more at risk for developing the double chin. As the skin in these individuals stretches over a smaller area and is less tightly drawn, even a small loss in skin elasticity can lead to a double chin.
While these factors are commonly linked to the formation of a double chin, losing weight or correcting your posture – although important for overall health – will not eliminate the double chin.
At Body Massage Wellness Med Spa, we offer a really cool way of getting rid of your double chin. CoolSculpting for the chin is one of the innovative and advanced body contouring treatments that we offer. CoolSculpting works by freezing the fat in the chin which is excreted out of the body over time.
How CoolScultping for chin works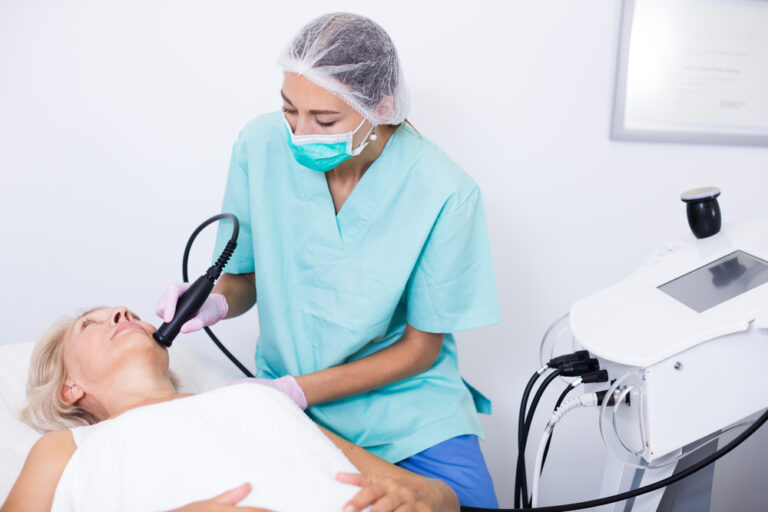 The principle behind CoolSculpting is cryolipolysis or breaking down of fat by subjecting it to freezing temperatures. Scientists found that when the skin is exposed to extremely cold temperatures, the subcutaneous fat cells (fat below the skin) freeze faster than other cells or tissues. This leads to the breakdown of fat that is eliminated from the body by the liver.
The innovative technology was approved in 2010 by FDA to treat excess fat in the flanks and later, to treat belly fat. It was subsequently FDA cleared to target excess fat in multiple body areas including arms, thighs, chest, back, below the buttocks or 'banana roll,' below the jawline, and double chin.
The procedure for Coolsculpting treatment for your chin starts with your booking a free initial consultation with our CoolSculpting professional. Once the expert confirms your candidacy for the treatment, you can simply walk in on your preferred appointment date to get started.
The skilled aesthetician applies a gel pad on the chin area to buffer your skin from the cold temperature. She then places a 'vacuum-like handheld applicator on the double chin area. The CoolSculpting professional uses an applicator that is specifically designed for treating smaller areas such as the chin. As she gently moves the device across the chin area, the applicator uses suction force to isolate the chin fat and then subjects it to very cold temperatures. The process can take 30 to 45 minutes to complete while some sessions can be longer based on the area being treated. In most cases, CoolSculpting is completed in our med spa within an hour.
Our aesthetician will take the utmost care to make you feel comfortable and relaxed throughout the procedure while the relaxing and clean environment of our spa adds to your rich experience. During the procedure, you can read a book, use your smartphone or listen to music.
You can immediately resume your activities and normal routine following the treatment. The results can be seen within a few weeks while it can take up to 3 months to notice the full extent of fat reduction. As fat cells are broken down and gradually eliminated, your chin and jawline will look slimmer, tighter, and contoured.
Cool benefits of CoolSculpting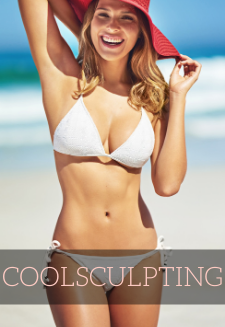 CoolSculpting is the only non-surgical fat reducing treatment that has received FDA approval to treat the double chin or submandibular area. The technology is used to effectively contour the chin and below the jawline area and restore a youthful appearance.
Clinical studies show that CoolSculpting can achieve a 33 percent fat reduction in the chin after just two treatments. The patient satisfaction rate with the treatment was reported to be 85 percent in these studies.
The traditional treatments for fat reduction and skin laxity include surgical 'lifts' and liposuction that involve a preparation phase, prolonged recovery, use of anesthesia or sedation, and side effects. With diet and exercise, fat cells shrink in size instead of getting permanently removed.
In contrast to these approaches, CoolSculpting for chin offers a range of benefits:
Pain-free
Completely safe
No sedation, anesthesia, needles, or numbing agents needed
No preparation or overnight stay in the treatment facility
Quick recovery and zero downtime
Permanent fat reduction in the chin area
Improved jawline and chin contour
Up to 33 percent fat reduction in the chin area
Who is a candidate for CoolSculpting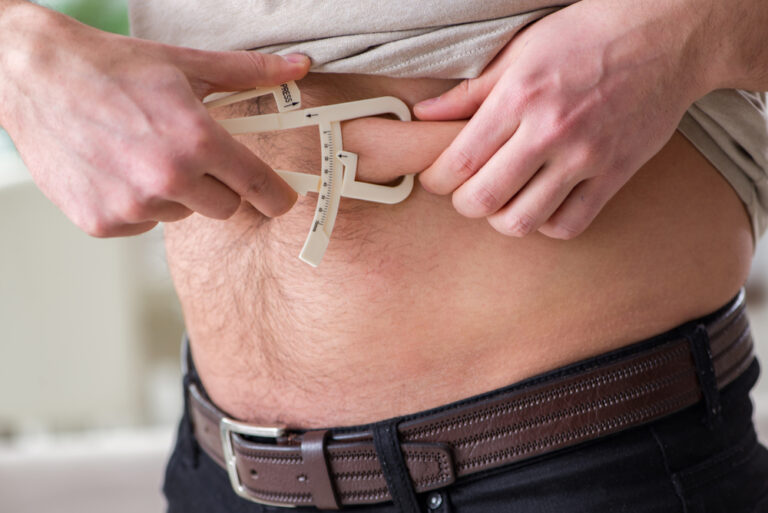 CoolSculpting is a non-invasive and safe way to treat unwanted fat deposits in healthy individuals of all genders and ages. If you have a noticeable double chin and are otherwise healthy, you are an ideal candidate for CoolSculpting for the chin. If you are overweight, the aesthetician will recommend that you lose weight and get as close to your ideal body weight as possible before the treatment. CoolSculpting will also not be recommended if the amount of fat in the chin is too little for the applicator to detect.
Certain medical conditions or past history of surgeries are also considered when determining your candidacy for CoolSculpting. For instance, people with these conditions may not be candidates for CoolSculpting:
chronic skin conditions such as eczema
Cryoglobulinemia – a blood disorder that results from exposure to cold temperatures
paroxysmal cold hemoglobinuria – a rare type of anemia
Sensitivity to cold ( Raynaud's disease or urticaria)
Impaired blood circulation
Neuropathic disorders
Our qualified medical aesthetician takes a meticulous approach to assess your general health, allergy history, surgical history, skin laxity or tone, and sensitivity to cold. This enables her to determine your candidacy for CoolSculpting.
CoolSculpting cost for chin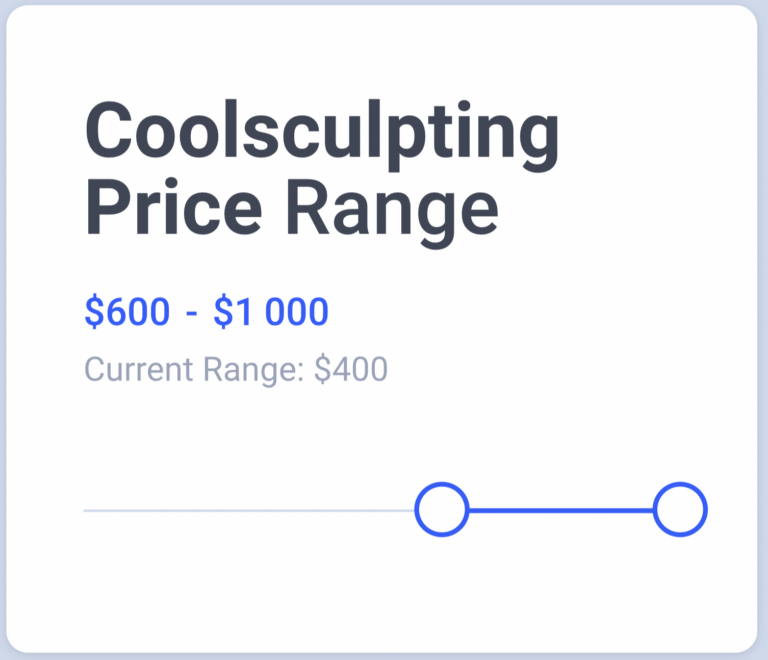 We are the preferred med spa in Denver not only for the diverse range of beauty, wellness, and body contouring services we offer but for our focus on delivering cost-effective treatments.
CoolSculpting cost for chin depends on the number of treatment sessions you need, your cosmetic goals, and the areas being treated. Many people choose to treat additional areas such as the chest, neck, arms, back, belly, flanks, and hips.
While most people need two sessions to contour the chin area, some may need more than two sessions to achieve their contouring goals. As the fat distribution patterns vary between people, the practitioner may also use more applicators to optimize fat removal. These applicators are angled in specific ways to address stubborn fat and achieve the sculpting effect. Depending on the aesthetic goal and extent of fat, it may be necessary to use two to five applicators to get a pleasing and natural contour. These factors may also affect the cost of CoolSculpting for chin.
Booking a free consultation with our CoolSculpting professional, Lauren, is the recommended way to understand the number of sessions you need and to get an estimate of the costs involved. We are known for designing treatments that match the aesthetic and budget goals of our clients while giving long-lasting results.
In the skilled hands of our professionals, the outcome of CoolSculpting treatments is optimized. This means that you can avoid unnecessary expenses of repeat visits or the costs associated with rectifying unnatural results.
Apart from a free consultation, you can also watch out for seasonal discounts, special CoolSculpting offers, and membership discounts at Body Massage Wellness Med Spa.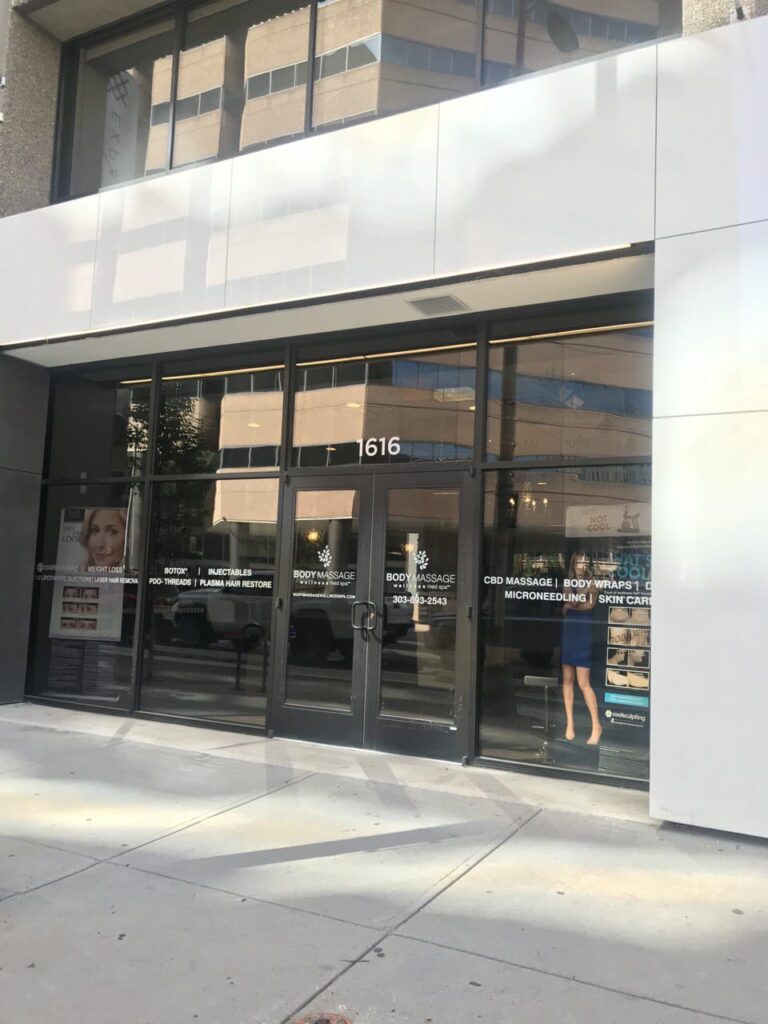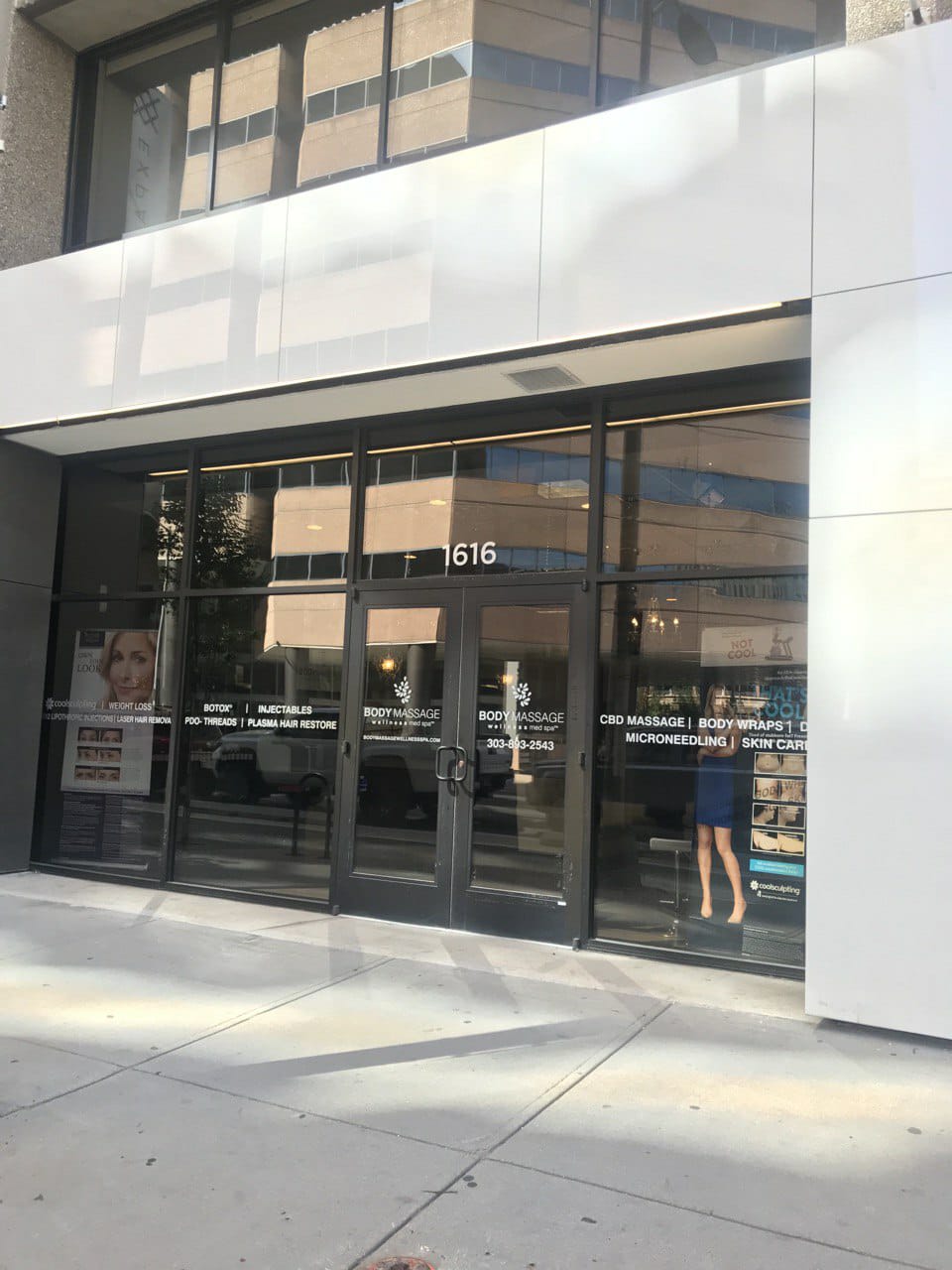 If you live in Denver or nearby areas, the answer to your search for 'CoolSculpting near me' is Body Massage Wellness Med Spa. For over 30 years, we have been the #1 choice in Denver and surrounding areas for a wide range of fat reduction, anti-aging, skincare, massage therapy, and wellness solutions. Our easy-to-find medspa is located at 1616 Welton near the corner of the 16th Street Mall in downtown Denver, CO.
CoolSculpting, in our sophisticated med spa, is performed by Lauren, a registered nurse and licensed aesthetician. She has rich experience in medical aesthetics and is certified to perform Coolsculpting treatments apart from other specialized procedures.
Lauren is focused on delivering exceptional patient care and begins with a thorough evaluation of your medical history, cosmetic concerns, and expectations. She examines the chin and jawline area to assess skin tone, laxity, and the extent of fat accumulation. Once she determines that you are a suitable candidate for CoolSculpting, she will discuss the procedure, the expected results, the number of sessions you need, and the cost estimate.
You can gain clarity on multiple aspects of the procedure or technology in this session that helps you understand what to expect from CoolSculpting for the chin.
In case our expert finds that you are not a candidate for CoolSculpting, she will recommend equally effective procedures that we perform in our medspa. These include but are not limited to:
cellulite removal
Detoxification
Our primary goal is customer satisfaction while we pay the utmost attention to patient safety, quality, and efficacy of treatments. Right from the moment you call us to book an appointment, the treatment session, through to follow-up sessions, we ensure your experience is seamless, comfortable, and enriched.
CoolSculpting For Chin In Denver
Schedule a chin CoolSculpting appointment
Ditching the troublesome double chin is now a breeze. Just call us to book a no-obligation, free CoolSculpting for chin consultation to know more about the procedure and to view samples of before and after photographs. Apart from the free consultation, we also offer free parking and a $50 Gift Card that you can use to book a wellness and beauty treatment.
Apart from the chin area, we have successfully leveraged CoolSculpting to remove unwanted fat from the flanks, abdomen, back, chest, hips, arms, inner and outer thighs.
You can also explore our diverse range of wellness, beauty, and skincare treatments that include
laser hair removal
biofeedback therapy
body massage
vitamin B 12 injections
hormone therapy
microdermabrasion
signature facials
RF Skin resurfacing
Botox
Fillers and injectables
PRP hair restoration
Call 303-893-2543 or use our email form to book a FREE personalized consultation.