CoolSculpting is the world's #1 non-invasive fat removal treatment.
The procedure freezes and eliminates unwanted fat cells
without surgery or downtime.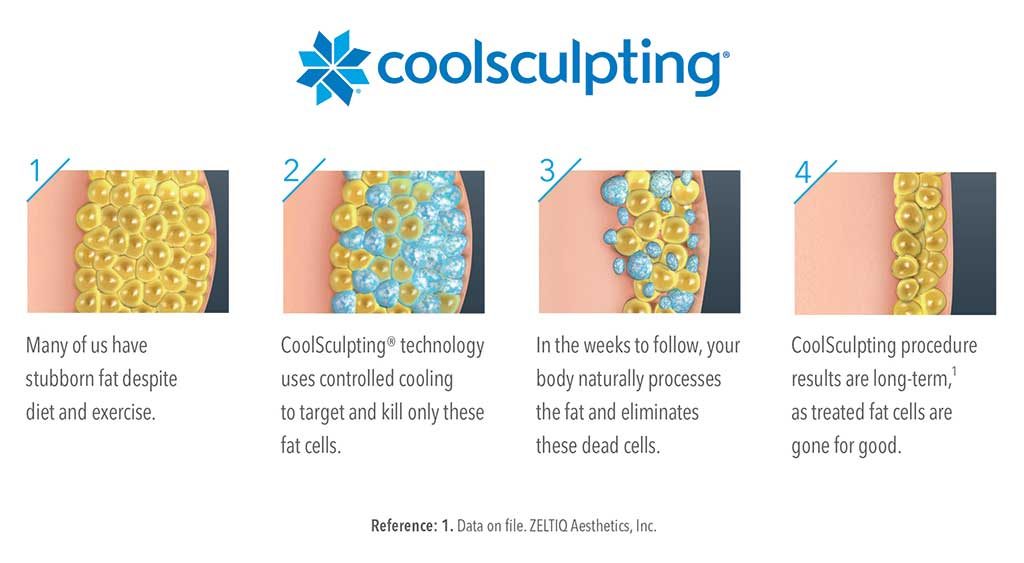 It comes down to science.
Fat cells freeze at higher temperatures than surrounding tissues. CoolSculpting technology safely delivers precisely controlled cooling to gently and effectively target the fat cells underneath the skin.  The treated fat cells are crystallized (frozen), and then die. Over time, your body naturally processes the fat and eliminates these dead cells, leaving a more sculpted you.
You can reshape your body!
You and our Medical Aesthetician, Amy,  will develop a customized CoolSculpting treatment plan that addresses your problem areas.  Additional sessions may further enhance your results.
Your individualized treatment plan will be tailored to your body, your goals, and your budget.
Sound Bites from Linda P. Coolsculpting to Eliminate her Double Chin.
DENVER'S LEADING MED SPA & THERAPEUTIC WELLNESS CENTER SINCE 1986
We provide a wide range of health and wellness programs that are individually tailored and results driven.
Amy Vigil-Ulibarri is our results-driven Medical Aesthetician, Certified Laser Technician and Coolsculpting expert,  with successful experience.
Amy has 18 years of experience in the aesthetic field. She has extensive training with Coolsculpting, laser technology and safety as well as, cosmetic procedure's. 
Amy attended the Coolsculpting University in San Francisco, CA and received her certification in Coolsculpting as well as received her skin care specialist license in 2000 from The Artistic Beauty College in Denver, CO.
As a Medical Aesthetician, Amy has distinguished strengths in enhancing patients' personal appearances using the latest technology combined with her continued higher education. She posesses a special talent for analyzing skin, and determining a successful plan of treatment for the best result. She truly has a passion for what she does.
In addition to Coolsculpting, Amy also performs the following procedures with high levels of effective treatment and skill:
Micro-needling, chemical peels, laser hair removal, laser skin rejuvenation, IPL treatments and more.  | Call to schedule a service at 303.893.2543.
Amy has a pleasant personality with a proven track record of practicing safe, effective, and hygienic aesthetics. She effectively determines appropriate, successful treatments for patients with the highest level of guest services.   She delivers a bespoke experience that is undeniably unique for every guest,  and  listens to your specific requests and concerns to provide a level of personalized service that is unmatched.
Amy hopes to apply her extensive experience to make Body Massage Wellness Spa a place where you can feel confident that you're getting a 5-Star treatment and are happy that your wellness needs are being delivered by high caliber individuals in a professional,  therapeutic environment.
Amy is very excited to be a part of a team that sees Total Wellness as the ultimate goal.
Denver's leading med spa & therapeutic wellness center since 1986