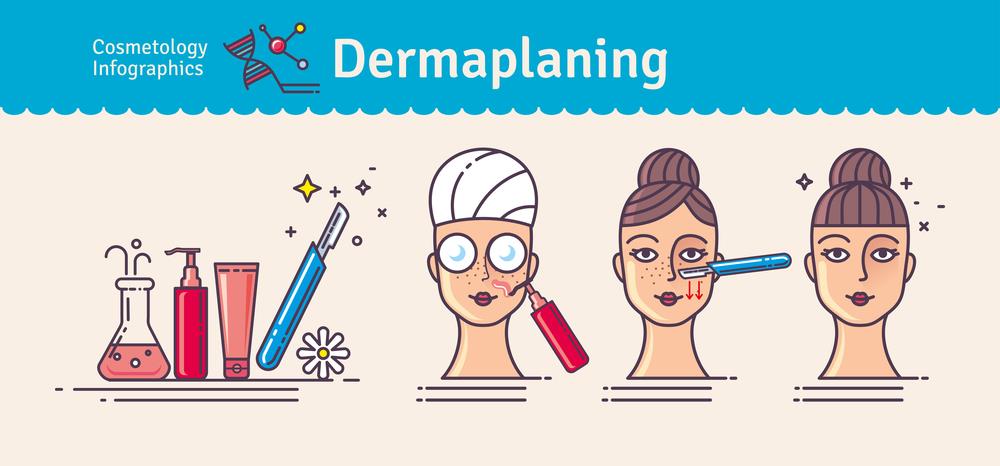 The human skin is made up of 3 layers; the deeper subcutaneous tissue, the dermis and the epidermis. For the purpose of this article, we will focus largely on the epidermis and a little bit of the dermis. 
The epidermis, the outermost layer of skin, provides a waterproof barrier and creates our skin tone. The dermis is the layer of skin that lies beneath the epidermis and above the subcutaneous layer. Thus, it provides strength and flexibility to the skin. 
The skin naturally sheds dead cells on a regular basis to make way for new cells. However sometimes, the dead cells don't shed as they should. Instead, they build up the surface of your skin, causing it to look dull and unenergetic. 
Dull skin could also be caused by environmental pollutants, aging, dry skin etc. Without the use of any invasive methods, dull skin could be rejuvenated by one of the simplest procedures called dermaplaning.  It is just one of the numerous methods in removing dead skin cells and tiny facial hair.
Dermaplaning is a cosmetic procedure that removes the top layers of your skin. The procedure aims to remove fine wrinkles and deep acne scarring, as well as make the skin's surface look smooth.
Dermaplaning is a physical exfoliation method that requires the use of a sterile scalpel. By removing that dead layer and hair from the face, the skin is evened out, and it helps with cell metabolism, which helps new skin come to the surface. Once the facial hairs are gotten rid of, your face feels very soft like that of a baby and gives a very smooth base for makeup application.
Your skin is exposed daily to harsh environmental toxins, irritants, and sun damage. This can cause the top layer of your skin to appear dull, and it can make you look aged. Dermaplaning clears away those damaged skin cells so newer skin cells can take its place.
The concept of dermaplaning is not so different from shaving. It uses a painless blade to gently scrape away facial hair ('peach fuzz'). This rids the skin of any build-up of dead skin cells, all which can contribute to making your skin look dull or uneven. Just like exfoliation, it removes any barriers which would stop your skincare products from penetrating – meaning your products often work much more effectively after a treatment.
Before the procedure, IS Cleansing Complex  is applied as an innovative skin care  to to prep the skin.  
Your practitioner will then use an electronic or manual dermaplaning tool to scrape over your skin at a 45-degree angle. This will continue for 20 to 30 minutes, on average, as your provider gently works to exfoliate the skin.
After the treatment is finished, your provider will soothe your skin with a soothing cream such as aloe. They will also apply sunscreen to protect your skin from the sun rays.
The results typically last only three weeks.
Dermaplaning aims to make your skin's surface smooth, youthful, and radiant. It can be used for any skin type and anyone with acne scars, dull skin, dry skin, sun-damaged skin, fine wrinkles etc. If you have highly reactive and sensitive skin, you may want to give this a pass, since it might irritate your skin. Same goes for anyone with inflamed acne—unsurprisingly, sliding a sharp scalpel over breakouts can irritate them and worsen existing breakouts by spreading bacteria.
Dermaplaning does so much more than remove hair from the skin. As you remove the hair and dead skin cells, you'll quickly notice how much brighter and softer your skin appears. "It also creates an ideal canvas for flawless makeup application and helps skin care products to penetrate the skin deeper". 
It is a skincare treatment choice for people looking for deep facial exfoliation, painless hair removal, and smoother textured skin.
PROS:
It is a painless exfoliating process that stimulates cellular turnover with little to no downtime.
It can be performed before treatments like facials, laser, microdermabrasion, and chemical peels for better product penetration.
It can be performed frequently.
It helps makeup go on smoother and more evenly.
It can help significantly lighten post-inflammatory scars from past acne.
It does not make the hair grow back thicker and darker.
CONS:
When performed by a professional, dermaplaning is safe for most skin types especially those with sun damage, fine lines, dry patches, and dull skin.    Side effects are very rare and are generally limited to a little redness directly after the procedure and very mild dryness, Generally, these are some of the cons:
It is typically more expensive than some other hair-removal treatments.
The results might not be as long-lasting as other hair-removal methods, such as waxing, as the hair is not removed from the root.
Results will differ depending on a client's hair-growth cycle.
Not suitable for Clients with active and cystic acne as it can cause further irritation
At Body Massage Wellness Spa, the derma planing procedure will cost between $75 to $140 per treatment  (depending if you opt for the upgrade) but you'll notice a difference in your skin's texture and tone immediately.  
It is not covered by insurance but price ranges vary depending on where you're located and the facility performing the procedure.
In conclusion, dermaplaning is good for your skin and could be done at least every 6 weeks depending on your hair growth cycle. While it does not only remove tiny facial hair, it helps skincare products and serums to be easily absorbed into the skin.
If you'd like to treat yourself to an effective and advanced skin care treatment in downtown Denver, please contact us via phone or online booking, to schedule your professional dermaplaning skin care treatment.