Juvederm XC Filler in Denver

Denver's leading med spa & therapeutic wellness center since 1986
Buy 1 syringe and get 5 Free units of Botox®.
Buy 2 syringes and get 10 Free units of Botox®, Includes express microderm. 
Receive $50.00 off Micro-needling, 10% off IS Clinical Products
Juvéderm® XC is the ONLY hyaluronic acid (HA) filler FDA approved to last up to one year with one treatment (did we just say a year?). That's right, up to a year.
Not all HA dermal fillers are created equal. Only Juvéderm® XC is so smooth. Other hyaluronic acid fillers currently on the market are made of granular consistency gels, but our unique manufacturing process (HYLACROSS™) creates a smooth-consistency gel that flows easily into the skin and provides a smooth, natural look and feel—so everyone will notice (but no one will know)!
Juvéderm® XC injectable gel is the first FDA-approved hyaluronic acid dermal filler that has proven its safety and effectiveness in persons of color. Studies with Juvéderm® XC showed no increased risk of hyperpigmentation or hypertrophic scarring in patients of color.
One size doesn't fit all when it comes to wrinkle treatment. A customized treatment plan is important for achieving the best results. That's why Juvéderm® XC is available in two formulations — Juvéderm® XC for versatility in contouring and volumizing facial wrinkles and folds, and Juvéderm® XC, a more robust formulation for volumizing and correcting deeper folds and facial wrinkles. This allows your healthcare professional to tailor treatment to meet your unique needs.
Procedure results are situationally dependent and those contained herein may not be wholly representative, nor do they constitute guaranteed results.  Individual results may vary.
Lose those lines for up to a year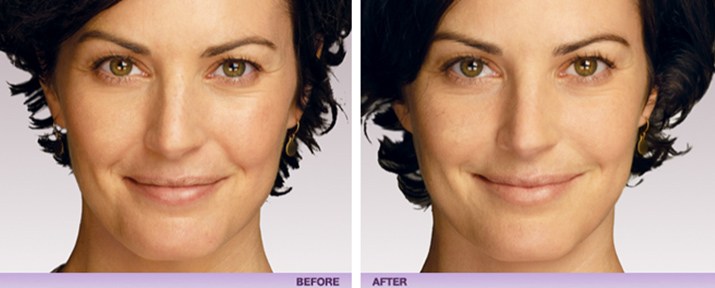 Frequently Asked Questions
Denver's leading med spa & therapeutic wellness center since 1986
important safety information
CONTRAINDICATIONS| JUVÉDERM® injectable gel should not be used in patients who have severe allergies marked by a history of anaphylaxis or history or presence of multiple severe allergies. JUVÉDERM® should not be used in patients with a history of allergies to Gram-positive bacterial proteins. JUVÉDERM® Ultra XC and JUVÉDERM® Ultra Plus XC should not be used in patients with a history of allergies to lidocaine.
WARNINGS| JUVÉDERM® injectable gel should not be injected into blood vessels. If there is an active inflammatory process or infection at specific injection sites, treatment should be deferred until the underlying process is controlled.
PRECAUTIONS| The safety of JUVÉDERM® for use during pregnancy, in breast-feeding females, or in patients under 18 years has not been established. The safety and effectiveness of JUVÉDERM® injectable gel for the treatment of areas other than facial wrinkles and folds (such as lips) have not been established in controlled clinical studies.
Patients who are using substances that can prolong bleeding, such as aspirin or ibuprofen, as with any injection, may experience increased bruising or bleeding at injection site. Patients should inform their physician before treatment if they are using these types of substances. As with all skin-injection procedures, there is a risk of infection.
JUVÉDERM® should be used with caution in patients on immunosuppressive therapy, or therapy used to decrease the body's immune response, as there may be an increased risk of infection. The safety of JUVÉDERM® in patients with a history of excessive scarring (eg, hypertrophic scarring and keloid formations) and pigmentation disorders has not been studied. If laser treatment, chemical peel, or any other procedure based on active dermal response is considered after treatment with JUVÉDERM® injectable gel, or if JUVÉDERM® is administered before the skin has healed completely after such a procedure, there is a possible risk of an inflammatory reaction at the treatment site.
ADVERSE EVENTS| The most commonly reported side effects are temporary injection-site redness, swelling, pain/tenderness, firmness, lumps/bumps, and bruising. Most side effects are mild or moderate in nature, and their duration is short lasting (7 days or less).
JUVÉDERM® injectable gel is available by prescription only.
Sources cited: http://www.allergan.com/products/key-products/product-prescribing