Has your skin started crinkling around your eyes? Have your cheeks started to sag?

Signs of aging can affect our self-confidence and prevent us from living a full life. Don't forego your social life just because of a few wrinkles and fine lines. With a PDO thread lift, you can restore your skin to its youthful firmness and take years off your face.
PDO Threads are used as an Anti-Aging treatment to tighten the skin, restore the V-Shape of the face, and it can even provide a lift to the sagging neck or jawline.  NovaThreads' PDO sutures essentially treats problems associated fine lines, sagging skin, loose skin and wrinkles.  There's no surgery or pain and the procedure is short enough to schedule the NovaThreads treatment during lunch time.
Frequently Asked Questions
They are hypodermic needles preloaded with a PDO absorbable suture.
What is a PDO Absorbable Suture
It's a synthetic absorbable surgical suture composed of polydiaxanone (PDO).   PDO sutures are used to perform cardiothoracic surgery (such as open heart surgery).  It's one of the safest materials to be implanted in the body.  Your skin fully absorbs within 4 to 6 months and won't leave you with any scar tissue. 
In medical terms "selective inflammatory response", it is the principle behind alot of aesthetic procedures (such as Fractional Laser, Chemical Peels and MicroNeedling).  Our skin is very good at repairing itself, and by inserting NovaThreads we make it "heal" itself by creating new collagen naturally.  Your skin gently reacts to the inserted threads.
PDO is fully absorbable, but that doesn't mean your skin won't react to it.  During the 4 to 6 months needed to fully absorb the PDO suture, your skin is also repairing itself around it.   It's "controlled healing" happening underneath the skin.  
No Cuts or Incisions. Purely Injections.
The NovaThreads are needles that are preloaded with a PDO thread.  We simply insert the whole needle in the interstitial tissue at the subdermal level, parallel to the surface of the skin, and pull the needle out.  The PDO Thread remains under the skin. 
Who can and who can't get PDO threads?
PDO threads are really safe and absolutely anyone can get a PDO thread lift. However, feel free to consult with our team, if you:
Have a skin infection or an acne outbreak.
Have recently undergone cosmetic surgery.
Have a medical condition that affects your blood clotting ability.
Are currently pregnant.
How should I prepare for the PDO thread lift?
A consultation will be first held prior to the treatment when our Body Massage Wellness Spa experts will evaluate your cosmetic needs. On the scheduled treatment date, you are asked to come without any makeup.

You will also be asked to:
Stop taking anti-inflammatory medications and blood thinners for 24 hours.
Not drink alcohol or smoke for 1-2 days before the treatment.
Stop taking any vitamins for a week before the procedure.
Postpone any other cosmetic treatment until after the PDO thread lift heals.
Avoid working out for 24 hours before the treatment.
What can I expect during the procedure?
Depending on the number of treatment areas being addressed, your PDO thread lift can take anywhere between 30 minutes and 2 hours. You may be asked to come in on multiple days in case you need a full facial lifting.

We apply numbing cream to your skin to make the procedure more comfortable. You are asked to lie down on the treatment table and we will begin the PDO thread lift. The threads are sutured into your skin using a blunt-tipped needle and any blood is wiped clean.

After the procedure, we apply gentle lotion on your skin to soothe the inflamed areas and facilitate healing.
What care instructions should I follow after getting PDO threads?
Some of the post-treatment tips to follow are:
Avoid making excessive facial expressions for at least a day after the treatment to prevent the threads from breaking.
Don't exercise and don't lift anything heavy for a day or two since it may prevent the threads from settling into your tissues securely.
Take any medications or blood thinners only 7 days after the treatment.
Use the antibiotics if our professionals have prescribed them to you.
Don't expose your face to heat or cold for 7-10 days after the treatment.
Wash your face gently and carefully and don't press your treatment site.
Schedule your other cosmetic, dental or medical procedures for a few weeks after the PDO thread lift.
Will there be any follow-up sessions?
Our team at Body Massage Wellness Spa may ask you to come in for follow-up sessions to check the progress of your healing. We will let you know about follow-ups after the treatment is complete.
Are there any side effects of getting PDO threads?
PDO thread lifts are extremely safe treatments and typically, there are no serious side effects. However, you may notice minor inflammation, tenderness and bruising in the treatment sites for a few days after the treatment. These will disappear soon.
What should I do if a thread breaks after the treatment?
Don't panic. It's very rare that PDO threads break after suturing them in. However, our team will have used a number of threads to support each treatment site. This will ensure that, even if a thread should break, your results will remain intact. You can always come to our Denver PDO thread lift clinic to get the threads reinforced.
Will the threads be visible on my face post-treatment?
No, they won't. At Body Massage Wellness Spa, our experts are careful to ensure that no signs of the PDO threads are visible after the treatment. Since the threads are absorbed by the body, you also won't have any scars that typically occur during suture removal.
How long do results last?
Depending on how well you take care of your skin, the results of your PDO thread lifting may last between 12 & 18 months.
How often can I get PDO threads?
You can get PDO threads whenever you begin to notice the droopiness and fine lines have returned.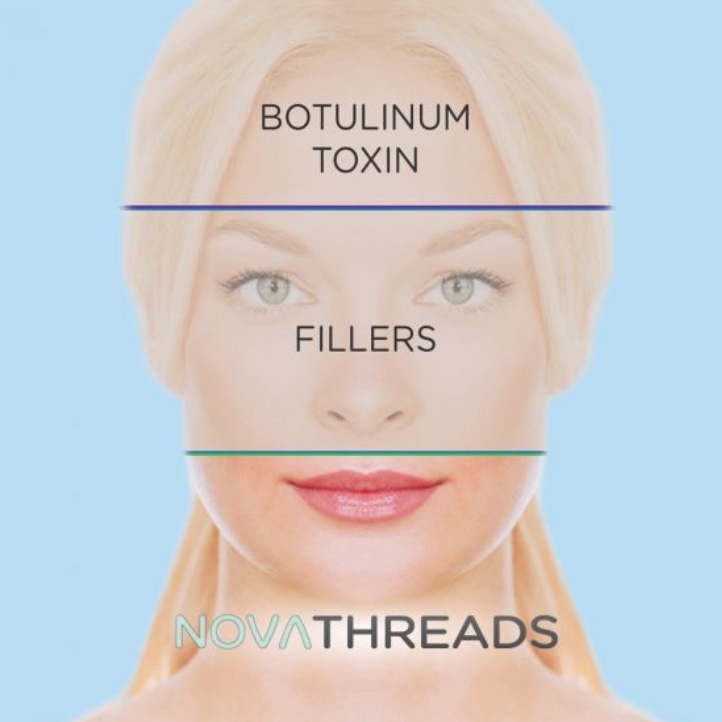 DENVER'S LEADING MED SPA & THERAPEUTIC WELLNESS CENTER SINCE 1986
We provide a wide range of health and wellness programs that are individually tailored and results driven.
At Body Massage Wellness Spa, we are a reputed med spa located in Denver, Colorado. Our dermatological specialists have immense experience providing the PDO threads treatment. Visit our Denver facility today and return home as a more youthful version of yourself.

Contact us today to schedule a consultation with our team.
Polydioxanone Threads (also called PDO threads) are a specialized cosmetic surgical tool designed to help lift sagging skin and tissue.

PDO threads are an absorbable polymer material. This makes them very flexible and durable – perfect for maneuvering around your skin tissues and lifting the droopiness back into its rightful place.

The PDO thread lift is the process of lifting your sagging facial tissue using PDO threads. These threads are sutured into your face and the sutures are pulled upwards to make the tissues tighter and more compact. Our PDO thread lift professionals at Body Massage Wellness Spa have years of experience suturing the PDO threads. Once done, no one will be any wiser about your cosmetic treatment. The results of the PDO threads are that natural!
Often, facial tissue sagging occurs because of a loss of collagen in the skin. Collagen is a protein that is essential for the tightening and volumizing of the skin. PDO threads are designed to facilitate the natural production of collagen in your skin.

Once PDO threads are sutured into your skin, they provide drooping facial tissue with the support need to return to their natural, lifted position. The presence of the threads stimulates the dermal cells in your skin to produce collagen, elastin and hyaluronic acid. These are essential to keep your skin line-free, smooth, soft and plump. After the treatment, your facial tissues will look significantly tighter and your face structure will look more sculpted.

The best part about PDO threads is that they are completely absorbable. The threads are made using skin-safe and body-friendly ingredients, which dissolve into your skin after a few weeks. This ensures that your skin continues to produce collagen and stays lifted long after the sutures have dissolved.
Evolution of PDO thread lifting procedure
The PDO thread lift procedure and PDO threads themselves have revolutionized the world of cosmetic treatments.

The very first PDO threads were developed and used in cosmetic treatments in the 1990s. The precursors for the real PDO threads were developed first in the year 1992.

Dr. Gregory Ruff, who was a plastic surgeon in Chapel Hill, N.C., was trying to find a solution to effectively treat the crushed cheeks of an accident victim. The doctor did not want to do a full-fledged surgery but wanted a way to lift the patient's cheeks in a safe and effective way. That's when Dr. Ruff decided to use his medical-grade sutures as a sling for the sagging and injured tissues. He inserted the sutures in the treatment site and provided minor lifting to the cheeks. This was one of the first instances of a PDO thread-like treatment being performed.

However, at that time, there was still very limited information about whether these threads would be an ideal and safe solution for full-fledged facial lifting. Initially, plastic surgeons began to use these threads to lift the drooping ptotic facial tissues, i.e., the upper eyelids, and assist in non-surgical treatments of Blepharoplasty.

A few years later, in 1999, Dr. Marlen Sulamanidze from Moscow wanted to develop a treatment for facial lifting that would eliminate the need for extensive surgery. Dr. Sulamanidze discovered the usage of these sutures for lifting ptotic tissues and decided to apply them in his facial lifting treatments. The procedures proved to be a huge success and Dr. Sulamanidze developed a special type of two-directional barbed sutures for facial lifting, called "Aptos".

As years passed, the efficacy of Aptos threads for general facial tissue lifting was found to be high. Slowly, more plastic surgeons began using these threads to lift various parts of the face. However, at that time, the sutures used were not absorbable and, therefore, were not the healthiest treatment for patients. For this reason, these threads were removed from the U.S. market in the early 2000s until a safer alternative could be found.

In 2010, researchers in Korea developed sutures made using Polydioxanone. This new material was more flexible, softer and most importantly – absorbable by the skin. The use of these Polydioxanone sutures made the lifting treatment much safer and the procedure – now known as PDO thread lift – was given FDA approval.
PDO thread lifting vs Facelifts
PDO threads are used to lift sagging facial tissues. But this is something that even a facelift is designed to help you with. Many patients who visit us at Body Massage Wellness Spa ask us why they should choose PDO threads and not facelifts. That's a really good question.

The truth is, the choice of which treatment you should undergo depends on numerous factors, such as:
The type of lifting you desire.
Extensiveness of treatment.
How much time do you have for recovery?
Treatment affordability
When you speak to our med spa experts, we will be able to help you choose the right procedure after a thorough examination. However, there are a few reasons why a PDO thread lift may be a better option compared to a facelift:
Procedure time – Depending on the extensiveness of the treatment, PDO thread lift can be completed in just an hour or two. Facelifts, on the other hand, involve surgery and can take time to complete.
Safety – In order to insert PDO threads, your med spa specialist will make a tiny puncture on your skin, large enough for the needle to pierce and enter your skin. Since these needles are blunt-tipped, they don't hurt your skin when inserted. In comparison, facelifts involve deep and wide incisions and re-suturing of wide swathes of the skin. As with any surgical procedure, facelifts do have certain risks associated.
Downtime – There is little to no downtime needed after you get PDO threads. You can resume your normal activities after the procedure is done. Our cosmetic professionals will provide a list of Do's and Don'ts, which you will need to follow to ensure the sutures don't break apart before settling down. Since facelifts are full-fledged, serious surgeries, you may need to stay at home for a few weeks until your scars heal and the puffiness reduces.
Results time – The results of the PDO thread lift can be seen immediately and you'll notice a difference in the shape of your face post-treatment. These results will improve over time as the threads get absorbed by your skin and promote facial tissue regeneration. With facelifts, although the results last much longer than PDO threads, it can take up to a month for all the puffiness to reduce and for the results to be properly seen.
Scarring – PDO threads are inserted only through a tiny piercing made on the surface of your skin and are barely visible at first glance. Facelifts do result in light, minor scars, which can be problematic for some patients.
When are PDO threads useful?
PDO threads are incredibly useful in many ways and this includes:
Reducing the appearance of wrinkles and fine lines on our face.
Giving our face a defined shape and structure.
Tightening the skin and making it look and feel smooth.
Preventing the need for surgical treatments for facial lifting.
Reducing time taken to heal from the treatment and return to our normal routine quickly.
Improving blood and lymph circulation in your skin.
Preventing the formation of scars or marks due to large incisions.
Providing immediate aesthetic results post-treatment.
Reducing the need to put unhealthy or dangerous chemicals in the body.
Making it easier for the patient to undergo multiple treatments at the same time (since recovery time for PDO threads is minimal).
If you'd like to undergo a PDO thread lift, please contact us at Body Massage Wellness Spa to schedule a treatment.
PDO thread lifts are extremely versatile and can be used to treat sagging in various treatment sites, including:
Eyebrows
Forehead
Crow's feet
Under-eye area
Nasolabial region
Cheeks
Upper lip
Marionette lines
Jawline
Jowls
Neck
Not every treatment area uses the same PDO threads. These threads come in different designs. Each design has been specifically created to facilitate a specific aesthetic result and help patients who come with different facial lifting requirements. The three types of PDO threads are:
Mono threads: Mono threads are thin and smooth threads that are devoid of barb-like extensions. These PDO threads are used to lift and tighten the skin around the eyes, forehead and neck. Mono threads are better for minor-to-moderate sagging and typically, 10-20 threads are used to lift and tighten each treatment area.
Screw threads: Screw threads (also called tornado threads) are multiple threads that are interwoven together to form a single, large PDO thread. This thread is particularly helpful in increasing the volume of your face. The presence of a greater number of threads in a single PDO screw thread helps increase the amount of collagen that is produced in the treatment site. These tornado threads are used in areas of the skin which appear very sunken and need dramatic volumizing, such as the marionette and nasolabial areas.
Cog threads: Cog PDO threads are threads that have barbs that extend all along one side of the thread. These threads are great when you have severe facial sagging and need to re-contour your face. The barbs on the cog threads hook into the skin tissue and pull the tissue up into the face very tightly. These threads can make drooping areas such as jawlines look slim and shapely quickly.
How much do PDO thread lifts cost?
At Body Massage Wellness Spa, we believe that everyone deserves to look and feel young always. That's why we've made our PDO thread lift procedures extremely affordable. You can find our price list below:
Lip borders: 4x Twist /Pkg 12x Twist @ $300
Smokers lines: 4x Smooth /Pkg 12x smooth @ $260
Nasolabial folds: 4x Twist /Pkg 12x Twist @ $300
Marionette lines: 4x Twist /Pkg 12x Twist @ $300
Jawline & Cheek lift: 12x Barbs, 24x Smooths, 8x Twists @ $2,800
Eyebrow lift: up to 8x Barbs, 8x Smooths, 4x Twists @ $2,000
Add-on neck lift: up to 6x Barbs, 16x Smooths, 8x Twists @ $1,200
Jawline/cheeklift/Neck PKG: up to 12x Barbs, 48x Smooths, 24x Twists @ $4,300