Lipo Laser treatment in Denver

If you are looking for a truly innovative body contouring fat, and weight loss solution, discover Lipo Laser body contouring with our Boot Camp. We are one of the few spas in Denver offering this inch loss, fat loss, weight loss body contour laser treatment.  Body Massage Wellness Spa would love to be your personal weight loss and fat elimination specialist, with the help of the revolutionary treatment.   Treatments as low as $66.00 per area and package pricing is available.
Denver's leading med spa & therapeutic wellness center since 1986
Patients in Denver who are looking for an innovative body contour method, fat reduction and cellulite removal can stop their search today – Lipo Laser might be just the answer for their needs. The treatments can be applied to thighs, hips, stomach and back for six to nine treatments over the course of two to six weeks.  When combined with our signature Verju Lipo Laser Weight Loss Boot camp optimal results can be achieved.²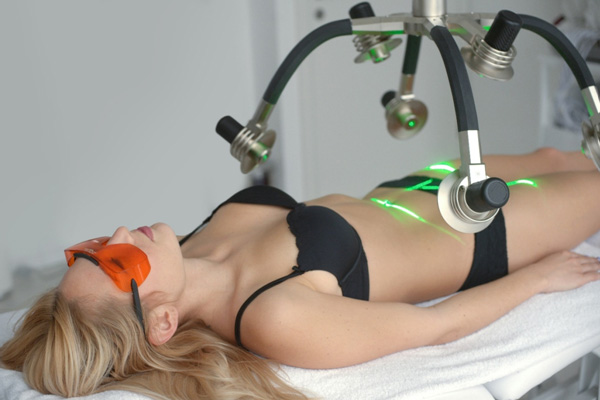 During the treatment, the patient reclines on a table as the laser beams are aimed at specific areas for 15 or 20 minutes each with treatments lasting 30 to 40 minutes. Using a vibrating roller ball, the lymphatic system is then stimulated to assist with fat drainage and removal. Once the fat drains out of the cells, the lymphatic system then removes it over the next few days.
Since Verju Lipo Laser is a cold laser using green light, it does not need heat. Although the results can compare to liposuction, patients do not suffer the same discomfort, pain, incisions or extensive recovery as liposuction. To accelerate recovery, drink lots of water, wear compression undergarments, limit alcohol consumption and walk for 10 to 20 minutes daily.
You can set up flexible appointment times with your Verju Lipo Laser weight loss specialist at Body Massage Wellness Spa in Downtown Denver without interrupting your daily routine.
Verju Lipo Laser Boot Camp
Verju Lipo Laser Boot Camp | It's time to lose weight and get back in shape with Verju Lipo Laser Boot Camp. Our Verju Lipo Laser Boot Camp promotes inch loss, a healthier lifestyle, nutritional supplements, and more…
Reveal Your true shape ... in Just two weeks
Welcome to VERJU® | The clinically-proven new treatment that reduces inches and stubborn body fat with little to no discomfort or pain. VERJU Lipo Laser revolutionizes body slimming in a safe, effective treatment. There are no needles, no incisions, and no recovery time needed. 2
Why choose VERJU® | Clinical trials confirmed the amazing effects that VERJU Lipo Laser had on adipose tissue (fat storing cells). The results demonstrated that a small pore was created in the protective membrane of the fat cell enabling the fatty matter to seep out of the cell. The excess fat was then passed out of the body during its normal course of detoxification.
Before and After Success Stories

6 REASONS TO CHOOSE OUR DENVER BODY MASSAGE WELLNESS SPA WHEN YOU USE
VERJU LIPO LASER
Safe | Since Verju Lipo Laser is noninvasive and tested by the FDA, patients do not suffer complications or side effects from use.
Convenient | You do not need to spend time recovering and will see results after just two weeks. 
Combine Verju Lipo Laser with Diet and Exercise | Since the treatment takes no time for recovery, you can maximize your results by including diet and exercise.
Measurable Success | We suggest a unique type of measurement so that you can feel the difference, and we measure you prior to starting treatment to compare your results when treatment ends.
Real Results | Average loss of 3 to 4 inches was reported in a clinical trial on the waist, hips, and thighs. Sources cited: http://www.erchonia.com/zerona-lasers 2
Benefits | Verju Lipo Laser is good for patients who struggle with a BMI over 30 or sugar regulation issues.
Scientific Basis for Treatment
Verju Lipo Laser breaks up the fatty lipids, which results in a collapse of fat cells. The fatty lipids disperse into the lymphatic system and are then converted into energy in the body. In addition to minimizing the appearance of cellulite, the technique promotes collagen production. At the same time, Verju Lipo Laser does not damage fat cells. Other laser light treatments use red light waves with less energy. Instead, Verju Lipo Laser uses green light waves with more energy, resulting in more effective treatment.
In clinical trials, subjects reported losses of as much as 4 inches on the abdomen and upper legs as compared to a placebo with a loss of only one inch. After trials conducted by the United States National Institute of Health, the Federal Drug Administration cleared the lasers for public use in August 2010.
Verju Lipo Laser has earned the distinction of becoming the first green light non-invasive process to secure FDA approval. In addition to weight loss, further possible ramifications include protein and hormone synthesis that could help patients struggling with immune disorders or endocrine dysfunction.
The Nurnberger-Muller Cellulite Definition Scale
While not commonly used, the Nurnberger-Muller scale uses four levels of cellulite to determine the presence of cellulite.
Stage 0 – Skin does not show visible dimples while lying down, standing or when pinched.
Stage 1 – Skin does not show visible dimples when lying down or standing. Dimpling shows during muscle contractions or when skin is pinched.
Stage 2 – Dimpling does not show while lying down but shows while standing and is evident under normal circumstances.
Stage 3 – Dimpling shows while standing and lying down and is apparent under normal circumstances. The skin might have an orange peel appearance.
One benefit of the Nurnberger-Muller scale is that professionals can use it to evaluate changes in cellulite levels after treatment. Doctors assess results before treatment, after two weeks and after six weeks.
A Simple Explanation of the Verju Lipo Laser Treatment
Verju Lipo Laser is fully FDA approved for effective fat removal body contouring, making it the only non-invasive, non-surgical alternative to liposuction surgery! The laser quickly and painlessly¹ liquefies the fat, which is then removed by the body's normal detoxifying process. This allows the client to lose stubborn inches from the abdomen, waist, hips thighs or arms discretely, without losing time to healing and recovery. The United States National Institute of Health administered clinical trials of Verju Lipo Laser and confirmed its effectiveness. ²
Full FDA approval was granted August 2010. This approval is exclusively for the Erchonia brand Verju laser, who does not share or allow its patents to be used by other companies. Imitators and cheap knockoffs have of course appeared, however they do not use our patented technology and are not FDA approved. During the treatment, Verju Lipo Laser shines five non-heating low level lasers onto the desired treatment areas. The laser lights are visible, but there is no sensation during or after the treatment. Unlike liposuction surgery, Zeltiq, mesotherapy, or other body-contouring procedures, nothing ever touches or harms the skin. The low level lasers target the fat cells causing them to temporarily open and expel the contents of fat. The emptied fat moves through the lymphatic system to the liver, where it's processed by the body and discharged via, bowel movements, perspiration, urine and other forms of detoxification. Fat cells like grapes, are emptied of their contents and turned into raisins; leaving a flatter waist, tummy, etc.
In addition to being a painless process¹, there are no side effects. No recovery, no bruising, no swelling, and no downtime. You can return immediately to normal activity including exercise following your laser session. (1234567) In the study the FDA used to grant Verju full approval, patients lost an average of 3.51 inches and up to a maximum of 11 inches.
Sources cited: http://www.erchonia.com/verju-laser-system
First used to facilitate liposuction procedures, early lasers made by Verju manufacturer Erchonia were noted to improve liposuction through a preoperative treatment.
The original goal had been to shorten recovery time and reduce pain; surprisingly though, surgeons noticed the fat being removed by the vacuum catheter was liquefied rather than the usual 'chunky' consistency. As Erchonia investigated, they discovered that indeed the laser was liquefying the fat, and ultimately they found that even without the surgical procedure, the fat would be removed by the body via the lymph, liver and intestines…and the Verju Lipo Laser was born.
The Verju laser is the only laser fully approved as effective by the FDA for fat removal body contouring. The only FDA approved non-surgical, non-invasive alternative to liposuction surgery.
Sources cited: http://www.erchonia.com/verju-laser-system
The treatment takes place in a private room with a soothing atmosphere.Here, the patient will need to change into proper attire: Patient can choose to wear bathing suit, workout attire, or undergarments. (Keep in mind, the more direct skin contact the laser has, the more effective the results).
Next begins the Verju laser session. While lying down comfortably, the five Verju laser heads are focused over the skin of the desired area(s) to be treated. There are some options to patients; however for body contouring the patient will be treated for twenty minutes on the front of the target area. Then the patient will turn over and the back will be treated for another twenty minutes. (A staff member will restart the laser treatment once the patient has turned over). Each visit lasts just under 60 minutes. A total of 6 sessions (or more) complete the program. A final visit is necessary 1 week after the final Verju Lipo Laser treatment for evaluation, final measurements, and release.
Frequently Asked Questions
Sources cited: http://www.erchonia.com/verju-laser-system
Verju Lipo Laser Post Treatment Guidelines
Water consumption| You can estimate the amount of water you need by taking your weight in pounds and dividing that number in half. That gives you the number of ounces you may want to drink each day. For example, if you weigh 160 pounds, you should drink at least 80 ounces of water per day.
Caffeine consumption| It is recommended that you cut back on caffeine consumption, however if you must drink caffeine then for every 8oz cup of caffeine you consume you should drink an equal amount of water. Soda or any beverage that is carbonated is not recommended. If you must have caffeine fresh brewed tea or Coffee is recommended as long as you sweeten it with (Stevia) which is a natural sweetener and stay away from sugar and creamer.
Alcohol | When you drink alcohol it kills the fat burning enzymes which are stored in your liver, thus impeding your results. There is to be absolutely NO alcohol 1 week prior to starting the Verju Lipo Laser, during your 2 weeks of treatments and 2 weeks following your Lipo Laser sessions.
Exercise| The faster your body can get rid of toxins that are stored in the fat cells the better results you will have with Verju Lipo Laser, which is why exercising is recommended every day for at least six weeks while doing the Lipo Laser treatments.Examples of exercises that are recommended during your Verju Lipo Laser treatment| Walking, Running, Biking, Swimming, Rebounding (Big or small Trampoline), Jumping Rope, Jumping Jacks, Box Jumps, Sauna or Steam shower in combination W/ exercise 30 Minutes, 7 day a week for 6 weeks.
Compression garments| Compressing the treated area helps push the liberated fat out of the lymphatic system so that it can be metabolized out of the body. Think of it like the concept of squeezing water out of a sponge, expect you are squeezing fat out of the lymphatic system. Patients should buy a garment that is sized for their body. For instance if you are a size small, don't buy a large because it is more comfortable. You want actual compression. Women should buy the style that looks like a "bike short" and extends from just under the bra line to the lower thigh. Spanx private labels a brand called Assets that are sold at Target. You can also find other brands at Marshalls, Ross and TJ Maxx. Men can buy the neoprene exercise belts that Velcro tightly around their torso or the spandex T-shirts made by Under Armor or Spanx.
Call Body Massage Wellness Spa at 1 (303) 893-2543 for further Information on Verju Lipo Laser
Body Massage Wellness Spa in Denver provides this innovative treatment for patients looking to enhance their skin's appearance and over all body image. Learn more about what Verju Lipo Laser can do for you.   Contact us at the Body Massage Wellness Spa to talk with use today about smoother, firmer skin.
Denver's leading med spa & therapeutic wellness center since 1986
¹ The content of Body Massage Wellness Spa website does not provide medical advice this is for general information purposes only. The information contained on this website should not be considered to be professional advice for any reason including any medical diagnosis, examining, or treating medical conditions or treatment. Body Massage Wellness Spa excludes liability for any claims, losses, demands or damages with regard to any information or services provided at the website, including incidental or consequential damages and losses.
² Individual results may vary